JACKSON, Miss. (MISSISSIPPI WEEKEND) -
Everybody knows you can't enjoy the holiday season without a good home cooked meal... and if you can't cook- you need to know where to go for one. Executive Chef Nick Wallace is here to help you with both. Try this simple yet savory dish in your kitchen, or head on over to Nisan Cafe by Nick Wallace at the Two Museums to taste some of his delicious creations. You can contact with Chef Nick via email at info@nickwallacecullinary.com , or you can visit his website.
Cooking around the holidays honestly is all about fun... I get to cook a lot of food that I normally don't cook throughout the whole year."

—  Chef Nick Wallace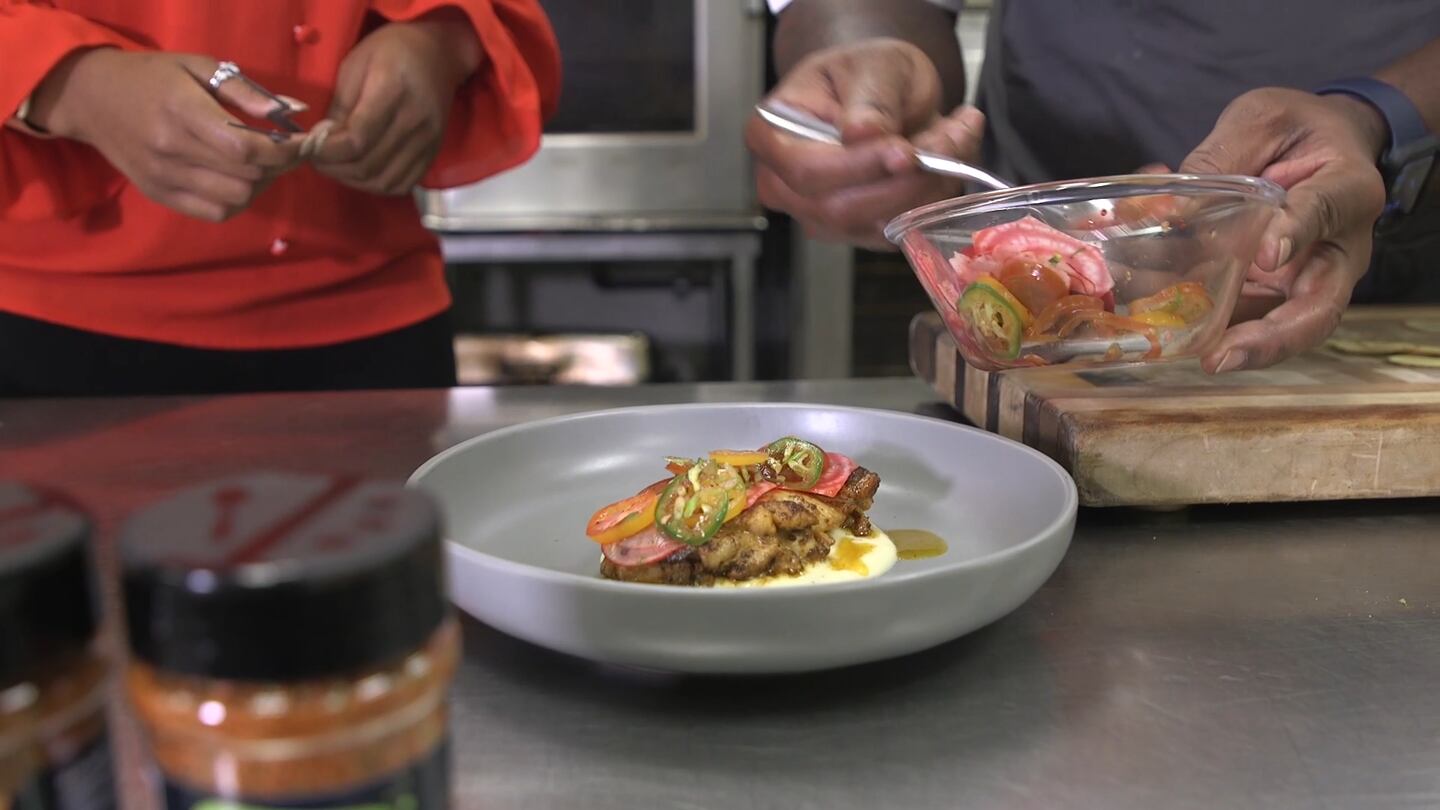 Herb Encrusted Chicken Thigh, Potato Puree, Shaved Beats, Pan Sauce : Recipe by Nick Wallace
Ingredients
8 chicken thighs, with boneless
2 tablespoons Olive Oil
2 tablespoons Margarine
2 tablespoons mustard
2 tablespoons Nick's 26 Seasoning
Potato Puree
2 pounds potatoes, (whole)
Salt and freshly ground black pepper
1 clove garlic, peeled
1 bay leaf
1 sprig fresh thyme
About 1 cup Cream
1/2 cup Margarine, cold
Instructions
Rub chicken thighs with mustard and then season with Nick's 26 seasoning
Add olive oil to a medium skillet
Pan-Seared in a medium-sized skillet in medium heat until browned and crispy on both sides. Then finish with margarine and use a spoon to coat the chicken as the margarine melts over the crispy chicken. Place the chicken thighs on a plate to rest before serving.
Directions
Put the potatoes, whole, in a pot and cover with cold water. Salt the water. Bring to a boil, and simmer until very tender, about 30 minutes, depending on size.
Meanwhile, drop the garlic, bay leaf, and thyme in a saucepan with the milk, bring to a boil, turn off the heat, cover, and set aside to infuse 10 minutes. Pull out the garlic and herbs, and discard.
When the potatoes are done, drain them and peel them while hot. Put them through a food mill set on the smallest setting over a large pot.
Beat in the Margarine a little at a time. Bring the milk to a boil and beat it in, splash by splash, until completely absorbed. You are looking for a very soft, fine puree, not unlike baby food! Make sure the seasoning is great, and serve.
Copyright 2021 WLBT. All rights reserved.